Utilizing digital patient interaction / triaging to improve the patient experience and organizational efficiency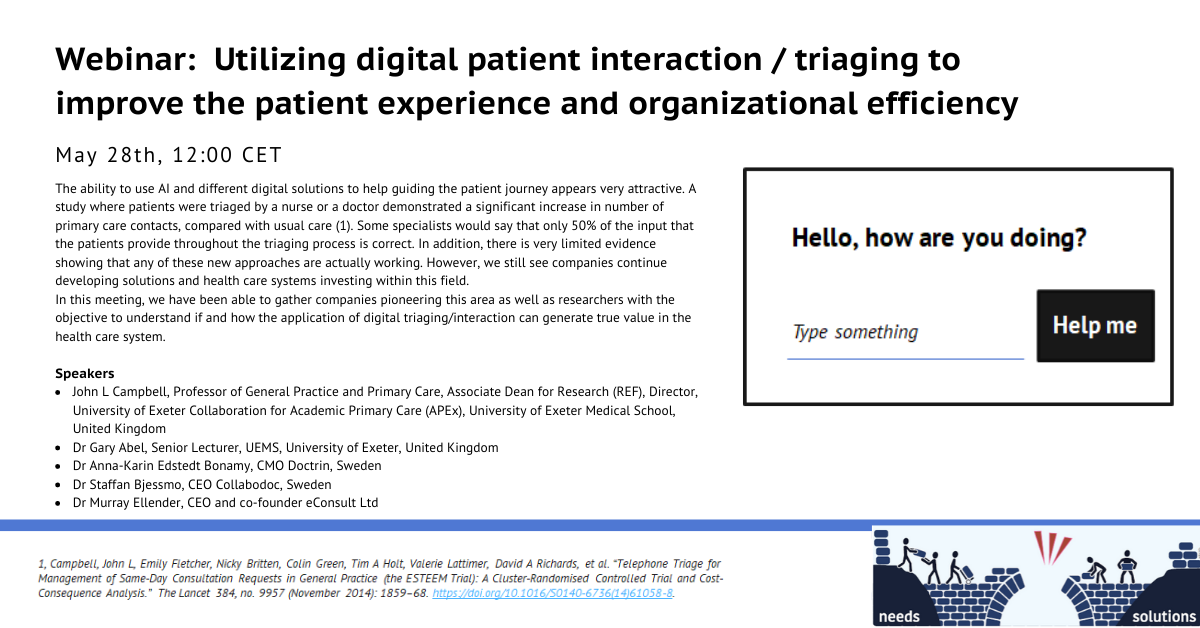 Recording of event is available, see registration link below. 
The ability to use AI and different digital solutions to help guiding the patient journey appears very attractive. A study where patients were triaged by a nurse or a doctor demonstrated a significant increase in number of primary care contacts, compared with usual care (1). Some specialists would say that only 50% of the input that the patients provide throughout the triaging process is correct. In addition, there is very limited evidence showing that any of these new approaches are actually working. However, we still see companies continue developing solutions and health care systems investing within this field.
In this meeting, we have been able to gather companies pioneering this area as well as researchers with the objective to understand if and how the application of digital triaging/interaction can generate true value in the health care system.
The agenda for the meeting will be:
Introduction to the current state of research in the field and experience




Prof John L Campbell

Dr Gary Abel

Case studies of different approaches




Collabodoc, Dr Staffan Bjessmo

eConsultant, Dr Murray Ellender

Doctrin, Dr Anna-Karin Edstedt Bonamy

Panel discussion




How do we evaluate the effect of the implementations?

What are the realistic improvement expectations in relevant outcomes?

What are the key-factors to ensure a successful implementation?

What are the research gaps?
Speakers:
John L Campbell, Professor of General Practice and Primary Care, Associate Dean for Research (REF), Director, University of Exeter Collaboration for Academic Primary Care (APEx), University of Exeter Medical School, United Kingdom

Dr Gary Abel, Senior Lecturer, UEMS, University of Exeter, United Kingdom

Dr Anna-Karin Edstedt Bonamy, CMO Doctrin, Sweden

Dr Staffan Bjessmo, CEO Collabodoc, Sweden

Dr Murray Ellender, CEO and co-founder eConsult Ltd
Registration: https://attendee.gotowebinar.com/recording/7580916476953918209 
1, Campbell, John L, Emily Fletcher, Nicky Britten, Colin Green, Tim A Holt, Valerie Lattimer, David A Richards, et al. "Telephone Triage for Management of Same-Day Consultation Requests in General Practice (the ESTEEM Trial): A Cluster-Randomised Controlled Trial and Cost-Consequence Analysis." The Lancet 384, no. 9957 (November 2014): 1859–68. https://doi.org/10.1016/S0140-6736(14)61058-8.